Skip to Content
Can a Locksmith Open Any Door?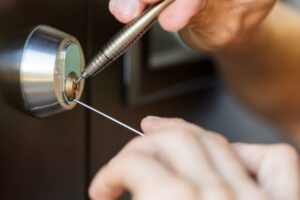 It happens to everyone at least once: you get home after a long day, only to realize you don't have your key. Or perhaps you were stepping outside for just a moment, when you hear the ominous click of the door accidentally closing behind you, and you realize you've locked your keys in the house. In another scenario, you've left your keys in the car and accidentally locked it behind you.
Before you decide to break a window or force your door open, know that a qualified locksmith will, in most cases, be able to get that door unlocked. In addition, the cost of their services will probably be less than the cost of replacing that window. But can a locksmith outsmart ANY locking mechanism?
There are many different kinds of locks, and an experienced locksmith has just as many ways to unlock a lock. However, if you'd like to equip your home or business with more secure or pick-proof locks, there are a few types of locks that even the most experienced locksmith will not be able to open.
Locks to a Safe
Safes are designed with complex locking systems and may require specialized tools to open. Unless a locksmith is familiar with the mechanisms for a particular safe, he won't be able to open it.
Vaults
The process of unlocking the lock to a vault is similar to that of a safe. These locks cannot be unlocked without a significant amount of knowledge about the particular locking mechanism and opening one may require advanced tools and techniques.
Smart Locks
Smart locks have become very popular in recent years. Many consumers love the convenience of merely pressing a series of numbers or letters on a keypad versus fumbling in a pocket or purse for their keys. In the absence of a keyhole, typical locksmiths' tools won't work on these kinds of locks.
Rare or Vintage Locks
In the past, some lock makers designed their products with very complicated and long-forgotten technologies.  Attempting to use modern tools or techniques may damage these locks, so locksmiths are very careful and sometimes unsuccessful with them.
Locks that Require Fingerprint or Facial Recognition
These are similar to smart locks and require extensive programming knowledge to open. In most cases, the manufacturer of the lock will need to be contacted to figure out how to unlock it.
For your commercial, residential, or industrial security needs, you can turn to the professionals at Accurate Security. For over 50 years we have helped homes and businesses throughout British Columbia remain safe and secure. Your safety, as well as the safety of your family or employees, is our top priority No matter your security needs, our team will provide competitive prices and premier security solutions you can trust.
For more information about the services we offer, visit our website or contact us at 604-777-3888.