Skip to Content
The Benefits of a Commercial Security System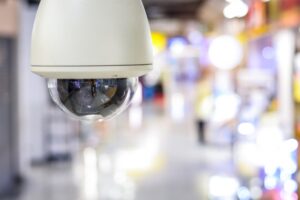 When you started your business, your major investments were likely facilities, inventory, equipment, and personnel. As your business developed you may have considered improving security, and a commercial security system is the next logical step. Selecting the best system for your business is determined by the particular needs of your company.
A strong commercial security system can prevent losses, protect your employees, and safeguard your business against other damage, and it offers many benefits.  Here are a few of these important benefits.
Protection from Vandalism
A system of video surveillance cameras can help to prevent theft or vandalism. The presence of the cameras is a deterrent to anyone that may want to damage or steal your property, your employees' property, or any equipment stored in outdoor areas.
Access Tools
There are likely areas of your business where you want the general public to have access and areas where you don't. In addition, there may be areas of your business where access is limited to only some of your employees. By utilizing security cameras and access control systems, you can avoid any problems in this area.
Quick Response from Authorities
A commercial security system can be designed to provide direct communication between your system and local law enforcement. By using video and audio surveillance systems, the authorities can tell if your system has been breached or if it's a false alarm. If there is a breach, local law enforcement can respond more quickly. This quick response can not only help the authorities to apprehend the perpetrators, but it can also help to minimize the damage done.
Reduction of Fraudulent Claims
Video and audio recordings can help in this situation. If an employee or a customer claims that they were injured on your property because of your negligence, video and audio recordings can help to defend you and your business from liability claims.
Reduced Insurance Costs
Most insurance companies offer sizable discounts to businesses that have a solid commercial security system in place. The reason is simple, with such a system, your company is much less likely to file insurance claims, so the rates can be adjusted accordingly.
Choose the Right System
When deciding to install or upgrade your security system, you'll need to weigh the cost versus the benefits. The complexity of the system can be tailored to the particular needs of your business, and the professionals at Accurate Security can customize your system accordingly.
For your commercial, residential, or industrial security needs, you can turn to the professionals at Accurate Security. For over 50 years we have helped homes and businesses throughout British Columbia remain safe and secure. Your safety, as well as the safety of your family or employees, is our top priority. No matter your security needs, our team will provide competitive prices and premier security solutions you can trust.
For more information about the services we offer, visit our website or contact us at 604-777-3888.