Skip to Content
Keeping Your Home Safe This Holiday Season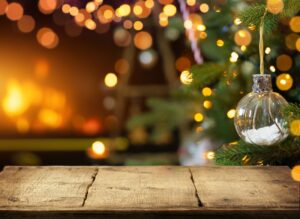 When we see the holidays approaching, we start to make plans. How are we going to decorate this year? Will we be spending more time at home or on the road visiting loved ones? Who do we buy for and what on earth can you give someone who already has everything?
The list goes on and on and it can be exhausting, but in the midst of all that, be sure to keep the safety of your home in mind. To help you with this task, here are a few helpful hints that will help you and your family to have a safe holiday season.
Children and Pet Safety
If you're decorating with ornaments that might break, hang them well out of the reach of small children or pets.
Fresh poinsettias, holly berries, and mistletoe are popular for decorating, but they can be toxic to children or pets if eaten. It's best to keep these out of their reach.
Fire Safety
Everyone loves the ambiance of a fireplace and hearth. While it's great to burn a yule log or two, make sure that your furnace, fireplace, and chimney are safe by having them inspected before you light the first fire of the season. Keep the fire in the fireplace, and don't let pets or children get too close.
If you have a fresh Christmas tree, be sure to water it regularly to prevent it from drying out. A dry tree can catch fire easily.
If you're decorating with candles, be careful to keep them at a safe distance from any other decorations that might catch fire. Also, make sure to blow them out when no one's around.
Before you set up any electrical lights, carefully inspect all of the wires, connections, and extension cords for wear. If you're in doubt about any of the wires, toss them out and get new ones.
Test your smoke alarm regularly to make sure it's in good working order, just in case.
Travel Safety
Over the river and through the woods, as the song goes, it's great to visit friends and relatives, but be careful about your plans and don't post them on social media. That's a way to invite unwanted guests to visit while you're gone.
Let one of your neighbors watch out for your home while you're gone.
Use timers on your Christmas lights as well as the lights in your home, to give the illusion that you're still there.
Get a home security system. This is the best protection for your family and home and not just during the holidays.
For your commercial, residential, or industrial security needs, you can turn to the professionals at Accurate Security. For over 50 years we have helped homes and businesses throughout British Columbia remain safe and secure. Your safety, as well as the safety of your family or employees, is our top priority. No matter your security needs, our team will provide competitive prices and premier security solutions you can trust.
For more information about the services we offer, visit our website or contact us at 604-777-3888.