Skip to Content
Common Door Lock Installation Mistakes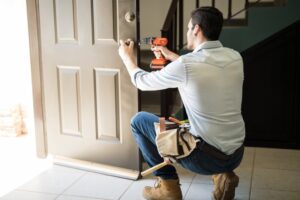 When you watch home renovation shows on TV, you get emboldened to start taking care of do it yourself projects around the house. If one of those projects for you is replacing one or more locks, be careful to avoid some of the most common mistakes homeowners make in this process.
Buying Cheap Locks
You get what you pay for, and that holds true for door locks. If you purchase the cheapest locks available, you run the risk of having to replace them in the not too distant future. In addition, substandard locks are generally easier for bad players to pick as compared to more expensive locks. To provide the best protection for your home and family, it's a good idea to spend a little more to get a high quality lock.
Drilling Holes Incorrectly
The old adage of measure twice and cut once certainly applies to installing a lock. It's crucial for you to make absolutely sure that you're measuring and drilling correctly. If you have to drill the saw hole in the door, start from one side of the door and as soon as you see the drill beginning to show on the other side, stop drilling and switch sides to continue. This will help to prevent splintering.
There is a simple tool available to help do-it-your selfers avoid this common door lock installation mistakes. A door lock installation kit attaches to the door to ensure that the holes for the lock, latch, and knob are drilled in the right places. The installation kit acts as a guide to align your tools as you drill the holes where the lockset will be installed.
Aligning the Lock Incorrectly
A common mistake is misaligning the lock. If you position a deadbolt or door lock incorrectly, you may not realize it until the lock has already been screwed in, and you may have to purchase a new door. You have to make sure that your lock is oriented correctly to lock from the correct side.
Not Considering the Weather
If you live in an area that is prone to extreme temperature and humidity swings, take that into consideration and purchase locks that made with waterproof and weatherproof materials.
Not Following Instructions
If this is your first time installing locks, you need to carefully review all of the instructions and follow them step by step. In addition, it's a good idea to watch some videos that can help you to avoid these common mistakes.
For your commercial, residential, or industrial security needs, you can turn to the professionals at Accurate Security. For over 50 years we have helped homes and businesses throughout British Columbia remain safe and secure. Your safety, as well as the safety of your family or employees, is our top priority No matter your security needs, our team will provide competitive prices and premier security solutions you can trust.
For more information about the services we offer, visit our website or contact us at 604-777-3888.