Skip to Content
Security Products for Rentals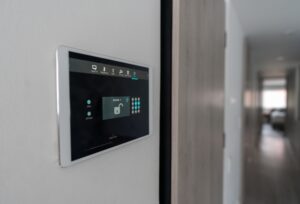 When it comes to security, there is no such thing as being too safe. This is especially true when it comes to short-term rentals. After all, you want your guests to feel safe and secure while they're staying in your home.
No matter what type of short-term rental property you have, it is important to make sure that your property is as secure as possible. Read on to learn about some of the best security products for short-term rentals and tips for getting started.
How to Get Started with Short-Term Rental Security
There are a few key security products that we recommend for short-term rentals. First, consider installing a home security system. This will help to deter burglars and other criminals from targeting your rental property. Second, we recommend investing in some good quality deadbolt locks. These will make it much more difficult for someone to break into your rental unit. There's even the option to use smart locks that can be controlled remotely, allowing an owner to remotely provide access codes to the smart lock on the door. Finally, consider installing some outdoor lighting around your property. This will help to deter criminals and make it easier for you to see who is coming and going from your rental unit.
Some of the most popular security kits and systems are discussed below:
Programmable Door Locks
Setting up an electronic door lock allows easy creation of specific codes for short term users to access your rental. Easily reprogrammable, it eliminates the need for keys. There are also options to control door access remotely via an app. We carry and provide installation services for high quality electronic door locks such as Schlage, Dorex, and Yale
Home Security Systems
Smart home security systems allow owners to have greater control over their property. Software and app use allows for remote monitoring for whole-home safety and smart product control. Most of these systems are highly scalable and fully customizable allowing control of door access, lights, temperature, and video monitoring. We specialize in products from Honeywell, Alarm.com, and DSC.
We recognize that the smart home technology may prove tricky to install for some. Our highly trained technicians are able to help with a variety of DIY home security systems such as Nest, Ring, Blink, SimpliSafe, Vivint, and more.
If you're looking for the best security products to use for your short-term rental property, Accurate Security in Vancouver, Canada is here to help. Our security solutions are perfect for any type of rental property, whether it's a vacation home, an apartment, or even a commercial space.
Learn more about our security solutions by contacting Accurate Security today. We'll be happy to help you find the perfect security products for your short-term rental property.