Skip to Content
Are Home Security Systems Worth It?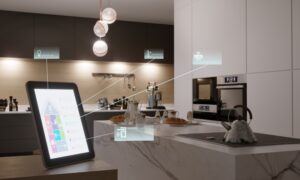 There's no denying that home security systems provide peace of mind. Knowing that your home is protected from burglars, thieves, and other potential dangers can give you a huge sense of relief. But are home security systems actually worth the investment?
Here's a look at some of the pros and cons of investing in a home security system:
The Benefits of a Home Security System
Home security systems deter burglars and thieves. The mere presence of a security system can be enough to dissuade criminals from targeting your home. In a survey done by University of North Carolina at Charlotte, 83% of burglars said they would try and determine if an alarm system was present before attempting burglary.
A home security system can alert you to potential dangers. If a burglar does break into your home, most security systems will sound an alarm or send an alert to your phone so you can act quickly. Some even dispatch authorities automatically.
Technology can offer protection. Many home security systems now offer additional features like camera surveillance and automatically records any detected activity which can give you an extra layer of protection.
A security system can provide evidence. In the event an incident does occur, being able to provide evidence from video monitoring can make a difference in regards to insurance coverage and legal proceedings.
The Disadvantages of a Home Security System
Home security systems can be expensive. The initial cost of purchasing and installing a security system can be significant. You'll also need to pay for monthly monitoring fees if you want 24/7 protection.
False alarms can occur. A loud alarm going off for no reason can be extremely annoying (not to mention stressful).
Home security systems can be complex to install and use. If you're not familiar with technology, you may have trouble getting your system up and running properly.
So, are home security systems worth it? We think so! Ultimately, that decision is up to you. But if you're looking for an extra level of protection for your home, a security system can be a great investment. Here at Accurate Security, we are here to answer all your questions. Contact us today!
How to Determine What Home Security Features You Need
Not all home security systems are created equal. There are a variety of features that you may or may not need, depending on your specific security needs. Here's a quick rundown of some of the most common home security features to help you decide which ones you need:
Alarm systems: If you want to be alerted in case of a break-in, an alarm system is a must-have. You can choose from wired or wireless systems, and there are even smart alarms that can send alerts to your phone or other device.
Surveillance cameras: Another way to deter burglars and keep an eye on your home is with surveillance cameras. These can be placed inside or outside your home, and you can view the footage remotely.
Motion sensors: Motion sensors are a great way to add an extra layer of security to your home. If someone breaks in, the motion sensor will trigger an alarm or notification.
Smart locks: Smart locks are a convenient way to keep your home secure. You can unlock and lock your doors from your phone, and some smart locks even allow you to set up unique codes for different family members or visitors.
Home automation: Home automation systems can do everything from turn lights on and off to unlock doors and more. These systems can be controlled via your phone or other device, and they can provide an extra level of security and convenience.
Now that you know some of the most common home security features, you can start to narrow down which ones you need for your Vancouver home. Consider your budget, your security needs, and your lifestyle when making your decision. And remember, you can always add more security features later if you find that you need them. Contact Accurate Security today in Vancouver, CA for a free consultation!
{
"@context": "https://schema.org",
"@type": "BlogPosting",
"mainEntityOfPage": {
"@type": "WebPage",
"@id": "https://www.accuratesecurity.com/blog/are-home-security-systems-worth-it/"
},
"headline": "Are Home Security Systems Worth It?",
"description": "Find out if investing in a home security system is worth it in Vancouver and how it can provide you with peace of mind and protection for your family.",
"image": {
"@type": "ImageObject",
"url": "https://www.accuratesecurity.com/wp-content/uploads/2022/07/GettyImages-1310118255-1-300×180.jpg"
},
"author": {
"@type": "Organization",
"name": "Accurate Security",
"url": "https://www.accuratesecurity.com/"
},
"publisher": {
"@type": "Organization",
"name": "Accurate Security",
"logo": {
"@type": "ImageObject",
"url": "https://www.accuratesecurity.com/wp-content/uploads/2020/07/logo.svg"
}
},
"datePublished": "2022-06-22"
}